Zunächst möchte ich Mr. Bruce Baker danken, der so freundlich war, die folgenden Bilder, Scans und Erinnerungen sowie eine Vielzahl interessanter Hintergrundinformationen zu den dargestellten Rechnern und vor allem dem EAI 231R-V Analogrechner dem Analogrechnermuseum zur Verfügung zu stellen.
Das unten darstellte Bild zeigt die Installation des "Tactical Avionics System Simulator" in Ft. Monmouth, New Jersey (Mr. Baker ist im unteren Teil des Bildes zu sehen - er stützt sich mit einer Hand auf einen Lochkartenleser). Gut zu erkennen sind einige EAI 231R Analogrehcner, zwei EAI 231R-V, ein DOS-350 (hierbei handelt es sich um den Digitalteil eines Hydac 2000 Hybridrechners, während der Analogteil aus einem Analogrechner des Typs EAI 231R(-V) bestand) sowie ein DDP-24 System. Bei der links unten zu sehenden Maschine handelt es sich um eine EAI 8400 - eine digitale 32 Bit Gleitkommamaschine.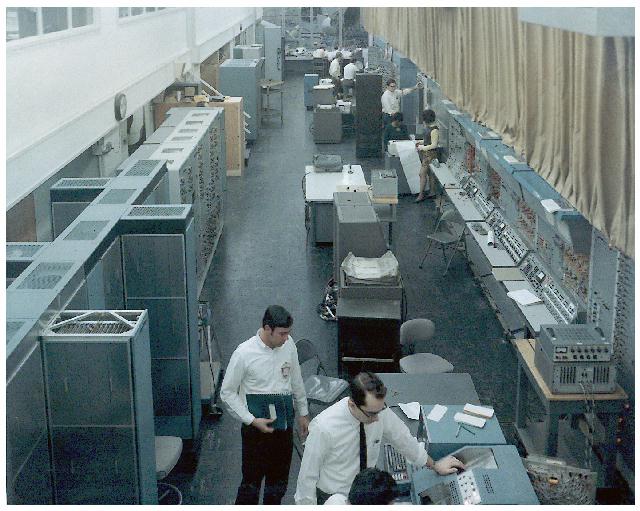 Als Mr. Baker seine Arbeit für Martin-Mariette begann, fand er folgendes vor:

"I was fortunate to have had the opportunity to work with the 231R-V analog computers for many years. I started at Martin Marietta in 1970, and the 231R-V computers were still relatively new, although not many years later EAI stopped providing any parts or service for them as they wanted everyone to buy new machines."

"When I started at MM, the simulation lab had two 231R computers that were in a sorry state of repair and calibration. These machines had all hand set pots. Sometime in the early 70s we got money to update the lab and bought a Sigma 5 digital computer and updated the analog computers. Because all the analog computers were different, I had the technicians rewire all of them to make them all the same. EAI custom engineered most of the 231Rs and it wasn't until about 1964 that they had anything resembling a standard patch panel layout."

"I bought several surplus machines for parts, and began making the machines so that they were all the same. The other simulation lab at MM had 6 231R-Vs, and they gave us 3 of them. However, these were not the gems, but had all hand set pots and no resolvers. Some of the surplus machines I purchased had servo set pots, and so we converted everything to servo set pots. We also had enough parts to put 3 good high accuracy resolvers on each machine. We built our first trunking station about this time. We used a single 231R and put two patch panels on it, with the two patch panels wired in parallel. This allowed the analog computers access to all the other equipment in the lab without the necessity to move cables around under the floor. It really worked out well. It still had the readout system and DVM, so it made debugging really easy."