Analog computers are ideally suited to simulate complicated mechanical systems involving several masses, springs and dampers since systems like these can be described conveniently by means of coupled differential equations which is the right food for an analog computer. :-)
Several years ago I found the following photograph in an old German magazine called "Hobby", issue 6, 1965: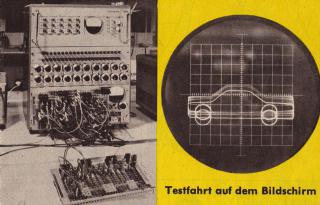 This picture shows the simulation of a (simplified, i.e. involving only two masses, so both wheels are treated as a single, lumped mass) car suspension system which was performed on a Telefunken RAT 700 analog computer (Analogrechner). This particular simulation was developed by Dr. Giloi as a demonstration to promote the then new computer system on a Hannover Messe. It was outstanding to perform such a simulation on a system as small as the RAT 700 (it contains only 15 operational amplifiers).
Today I decided to setup such a simulation on one of my Telefunken analog computers (Analogrechner) - in this case a RA 741 was used (this system, fortunately, has some more operational amplifiers than the original machine, Dr. Giloi used (he told me that he employed a trick - the car silhouette was generated by a specialized function generator which occupied one of the four expansion slots of the RAT 700 system thus freeing two operational amplifiers which would have been necessary in conjunction with the standard built in function generator otherwise).
The following picture shows the setup of my system for this simulation - please note that not all of the machines shown were actually used - this is just how my recreational area at home looks like. :-) The RA 741 can be seen on the left - it is programmed to display a car frame and two wheels as well as simulate a two mass spring damper system. The rack in the middle of the picture holds on its top two oscilloscopes, the rightmost, a HP-180, is used to display the car. Since this requires a three channel X/Y-oscilloscope, my four channel oscilloscope multiplexer is used (the second drawer from top of the rack). Furthermore the simulation needs a random noise source to simulate a bumpy road, this is done using the Wandel und Goltermann RG-1 on the top right in conjunction with my noise filter.